"They're really dancing with you!" observed Anna Halprin, as she watched "So Close" on my iPhone. Her recognition stands out as a profoundly meaningful one for us.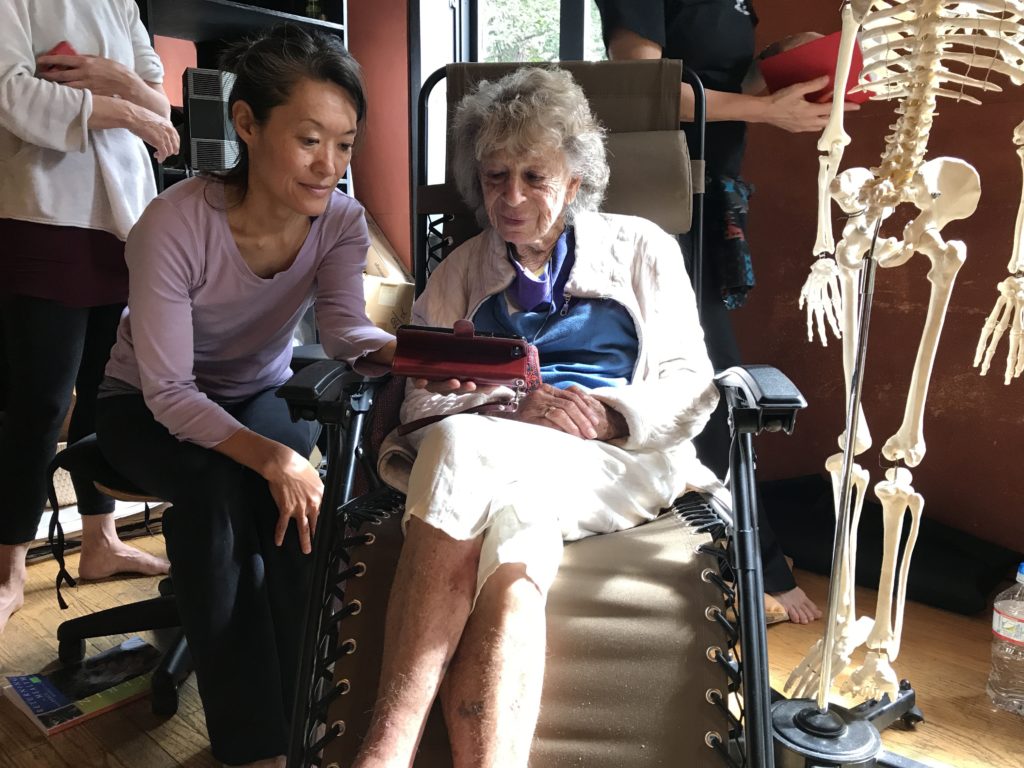 Many consider Anna Halprin (b. 1920) the pioneer of post-modern (downtown or contemporary) dance – the lineage of (terrestrial) dance with which we identify most. Since the 1930s, Anna has been making experimental dances that nurture collaboration through improvisation, encourage peace-making by bringing people of different races and ages together, and strengthen our connections to the natural world by dancing with and among trees, rocks, sand and ocean. Her teaching was profoundly influential for dance innovators of the 1970s and 1980s (such as Trisha Brown, Simone Forti and Yvonne Rainer), and through them, for the dancing and dance making we do today. To this day, Anna continues to teach classes and workshops that allow dancers to discover the value of their authentic, personal and 'natural' capabilities through exercises that cultivate kinesthetic awareness and inter-relatedness.
We recently had the opportunity to experience Anna's class for ourselves. Over two hours we walked, skipped and danced, connecting with lively classmates of all ages. We stretched luxuriously and sensed our moving bodies deeply. We made drawings of our experiences and shared them with each other through words and movement. Throughout, Anna gave clear and simple prompts, directing and responding to the energy of the group with great compassion and generosity. Her attentiveness supported our curiosity in our personal and group explorations. I felt a true sense of integration, having experienced just one class. No wonder the group included students who had been dancing with Anna for over 40 years!
The opportunity to share our work with Anna came at the end of the class, when she invited new students to introduce ourselves to her. Before seeing our films, she wanted to know: Were we ever afraid of the dolphins? How long did we hold our breath? After a minute of watching, nodding her head she said, "They're really dancing with you!".
Thank you, Anna. We receive your words like a blessing.